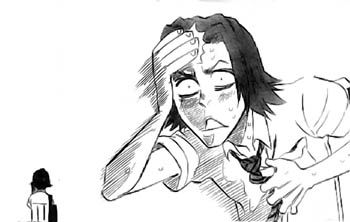 I LOVE YOU KEIGO. I WILL FOREVER REMEMBER YOU AS THE GUY WHO COULDN'T SEE HOLLOWS.

THOUGHTS ON THE ARANKARU:
HUECO MUNDO

Stop. I beg you, Kubotite. I thought I was okay with the Spanish but I AM NOT. I BEG YOU. GOD DO YOU KNOW WHAT HUECO MUNDO MEANS, IT MEANS HOLLOW WORLD. JESUS MOTHERFUCKING CHRIST MAN.
ULQUIORRA

All I have to say about this guy is my chemical romance. I liked him but now he's just fucking annoying. His eye thing was pretty awesome, though.
YAMII

Die. Already. We know Ishida or even worse, Orihime will kick your ass sooner or later. Or Yumichika. God, I hate this. HAVE YOU NOTICED HOW NOBODY EXCEPT KAIEN DIES IN THIS MANGA. I WAS PRETTY SURE ORIHIME'S BROTHER WAS GOING TO COME BACK AS ARANKARU UNTIL I REREAD THE CHAPTER AND SAW THAT HE COMMITED SUICIDE. EXCEPT YOU NEVER KNOW WHEN KUBOTITE WILL PULL THAT ONE OUT OF HIS ASS.
GRIMJAW

HE HAS POTENTIAL. HE DOES. I BET HE'LL LICK THE BLOOD OFF HIS OPONENTS AND EVERYTHING, LET'S NOT HOPE HE BECOMES INSANELY ANNOYING, LIKE OTHER CERTAIN HERBAL ESSENCE FUCKERS.
AIZEN

OH MY FUCKING GOD. THIS IS BY FAR THE MOST ANNOYING BAD GUY EVER. HE JUST SAID THREE WORDS AND I HATE HIM SO MUCH. He went from potentially gay school teacher to COMPLETELY GAY METROSEXUAL. AND HOW HE CASUALLY SAYS "AND OUR TWENTY FRIENDS", FUCK YOU. THIS IS REALLY BAD WRITING WITH GOOD ART, KUBO.
GIN / TOUSEN

Uh. Where are they. Gin Tousen sounds like a really lame Japanese drink.




I MISS HIRAKO.


- MATSUMOTO STAYING AT ORIHIME'S. WTF.

- YES, HITSUGAYA IS ELEMENTARY SCHOOL WITH GRAY HAIR. YOU SAW THAT DIDN'T YOU. THEY SAID ELEMENTARY. GOD I WISHHH.

- SCREAM AT ISSHIN AND YUZU OVERHEARING ON ICHIGO/RUKIA. I LOVE ISSHIN, KUBO DIDN'T GIVE HIM ANY ¬_¬ FACES AFTER SOMETHING HAPPENED, SO FAR. I'M SO THANKFUL FOR THAT.

- Fuck when they all show up from the lamp, I fucking died sdfgdgouhew.

- CHAD. YOU'RE OKAY. THANK GOD. I HOPE YOU DIDN'T LOSE YOUR ARM OR ANYTHING.

- Ishida, wtf. Are you now being "home schooled" (read: buttfucked) by your new Dad?

- ORIHIME. SHUT UP. I DON'T CARE. BTW, TATSUKI, WHY ARE YOU BEING LAME.

- RENJI WENT TO URAHARA'S. DO YOU GUYS UNDERSTAND HOW IMPORTANT THIS IS, URAHARA AND YORUICHI SAVED EVERYONE'S ASS, EVERYONE'S ASS. AND SOUL SOCIETY CHOSE TO IGNORE THEM. AND NOW KUBOTITE IS MAKING URAHARA SHOP THEIR KAME-HOUSE, WHERE YOU ONLY GO TO IMPROVE YOUR KUNG-FU. NEXT THING YOU KNOW, RENJI WILL HAVE SOME SORT OF TIGER COMING OUT OF HIS ASS WITH HIS THIRD-REICH BANKAI. GOD, I HATE ANTICIPATING THIS SHIT.


- Ikkaku and Renji are buddies, it's like Ikkaku knows EVERYONE but he's some lame 4th place, wtf is up with that. WE AT THE 11TH ARE TIGHT, YO. WE'RE THERE FOR OUR BROTHERS.

- Someone in the forums mentioned some bullshit that Captains wear a white thingamajig over their black kimonos. Someone ought to prove this, because they used it to confirm that Isshin used to be a captain, and that he could've been the captain Kenpachi supposedly killed to be captain. I can see this happening and while I will roll my eyes when Kubotite does it, it's pretty awesome. It'd make Kenpachi three times more amusing to have him chase both Ichigo and Isshin.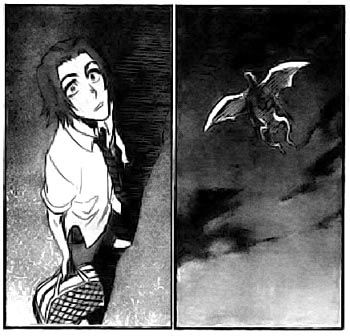 Fuck no. Fuck. No.

At this rate Yuzu is probably a Shinigami, since she could see a blur before everyone was a superhero.